With the advent of the 5G era, the high bandwidth and low latency characteristic of 5G have accelerated the development of industrial artificial intelligence and 5G has become the promoter of AIOT.
IEI possesses the technology and capability to create competitive AI-related products.
Through the INTEL® OPENVINO™ toolkit and NVIDIA platform, as well as partnerships with major partners such as GOOGLE CLOUD, it is possible to create multiple solutions for various industries by integrating hardware and software.
In terms of edge computing, we work with our group partner, QNAP, to focus on innovation in storage, network connection and smart video products, and work with other software partners to create solutions for industries such as factories, transportation, and medical care.
We join hands with major partners to create artificial intelligence solutions for various industries by integrating software and hardware.

Armorlink
Machine vision applications for sorting and grading of agricultural produce
The appearance of agricultural products is crucial. Colors indicate such parameters as maturity, defects, etc. Quality grades are decided by graders and are often inconsistent. Machine vision technology provides solutions to all these problems. Designed for the machine vision market, the FLEX series has four PCIe 3.0 expansion slots for installing motion controller cards, GPU/FPGA/VPU cards, and PoE Ethernet cards developed by IEI, and has four IEEE compliant GBE Power over Ethernet (PoE) port 802.3AF, which allows direct connection to CCTV cameras without the need for a separate power supply.
Armorlink
AI inference applications in colonoscopy
Because colon cancer can occur anywhere in the large intestine, medical staff need to be very careful when conducting colonoscopies. This app helps doctors pay more attention when inflammation, infection, ulcers, polyps, or any other abnormal tissue is detected during a gastrointestinal exam. We strive to reduce human errors caused by fatigue or distraction in daily clinical work.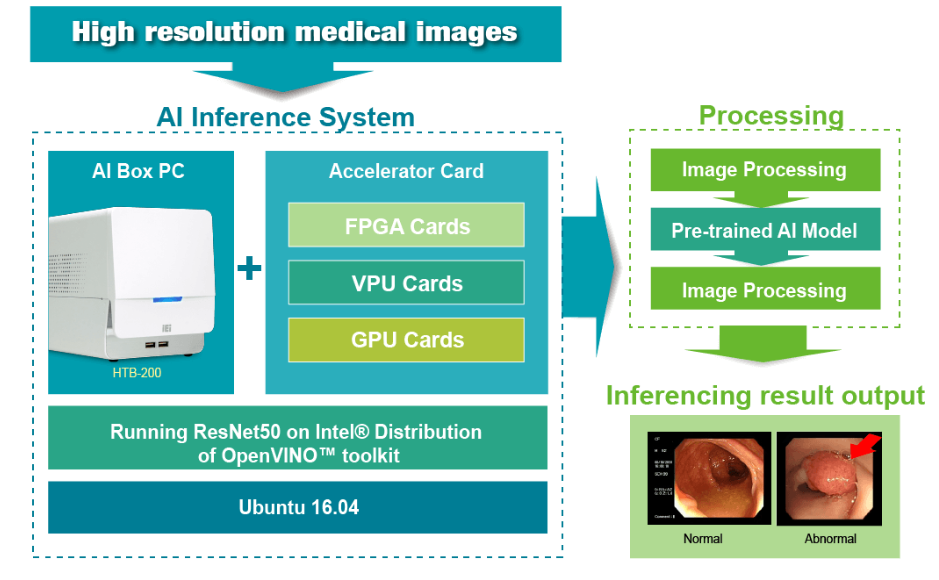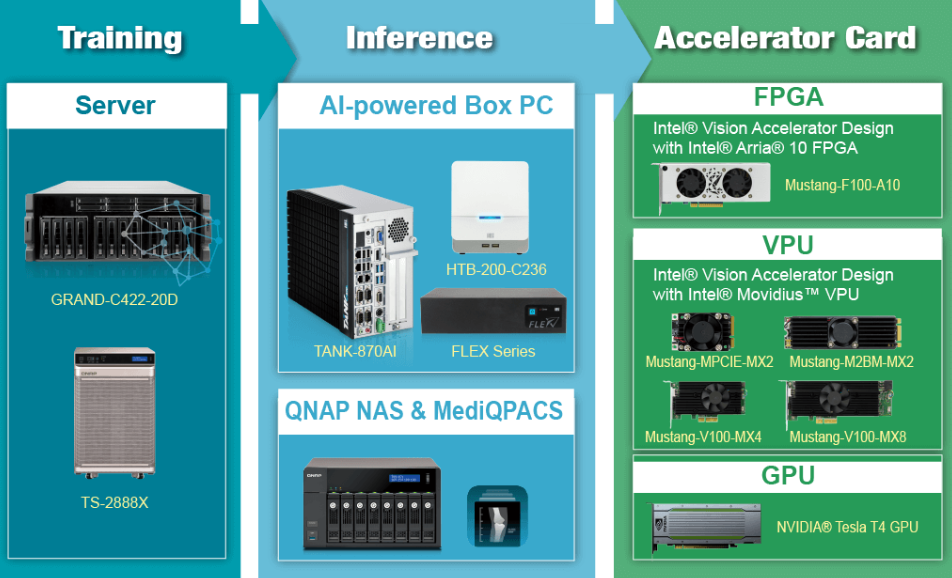 Armorlink
IEI AI Ready Healthcare Platform
The Group provides complete solutions for AI medical applications, ranging from big data management (NAS), and AI training (AI training platforms, training machines, and accelerator cards) to AI inference (network-based platforms, standalone inference machines, and embedded systems).
Armorlink
Brain tumor treatment applications
HTB-100 is a reliable high-performance medical-grade embedded system developed by the Group. By adding a VPU&GPU accelerator card, it can be used as an artificial intelligence inference device for brain tumor diagnosis thanks to its flexible expansion characteristics.
In the traditional process, developing a brain tumor treatment plan requires at least two doctors to manually mark and shape the brain tumor in each image. Due to the complex process, it usually takes a full day to complete a case. Through the use of an AI inference application, identifying brain tumors becomes automatic because the analysis can be completed in seconds. This maximizes efficiency and helps doctors avoid miscalculations.