Realize smart medical care with you and improve the quality of medical services
Focus on the development of smart medical solutions with the medical environment at the center
With the advancement of modern medical technology, nowadays, people's life is closely associated with the hospital, from the incubator to the ward. Coupled with the change towards aging societies, as well as the increasing popularity of the concept of long-term care, the demand for medical care has soared.
In reality, however, it is not an easy task to cultivate professional medical and nursing personnel, and the proportion between doctors and patients is seriously unbalanced. How to optimize medical procedures and effectively reduce the workload of medical staff by virtue of science and technology has become the Group's goal of continuous research and development in the field of smart medical care.
The Group focuses on the development of smart medical solutions with the medical environment at the center
One by one, ARMORLINK's production technology and decades of manufacturing experience has brought various beautiful visions of smart medical care into reality.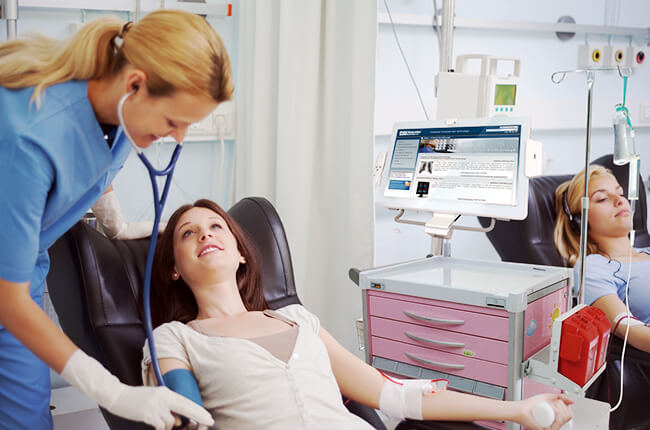 Armorlink
Nursing Station
User-friendly design has long been our core value. The Group's medical solutions products support various communication functions such as Bluetooth, 1D/2D bar-code scanners, RFID (Radio Frequency Identification), SCR and MSR. These convenient devices can effectively improve work efficiency of the clinical medical staff. Tablet computers, 2D bar-code scanners and the BriteMED medical carts help optimize the workflow for vital sign collection in daily care. Our current partners have applied IEI Group's medical solutions in the collection of data on patients' vital signs in wards, ICUs (intensive care units) and hemodialysis centers, which have effectively saved medical staff from manually recording the data. As a result, it affords medical staff more time to care for patients, which in turn improves the doctor-patient relationship. In addition, by applying the Group's smart medical solutions, doctors only need to carry a tablet computer during ward rounds to explain to each inpatient all their medical conditions. Doctors can also use wireless video streaming to cast medical images on a larger screen, which helps to create a more convenient environment for discussion among physicians, inpatients and caregivers.
Armorlink
Operating Rooms
When performing surgery, the surgical team requires a variety of medical information, such as vital signs, surgical navigation and even the medical history of a patient. However, this information is often dispersed among different devices or systems, making it difficult for the surgical team to visually grasp at a glance. An integrated medical information platform allows surgical teams to get all the information they need from a singular device, thus improving their surgical procedures. In addition, in order to obtain accurate and complete surgical records and protect patients' right to know, many hospitals have installed medical video recording systems in operating rooms. However, the raw image data is very large in size and almost impossible to store for a long time. Our image reading series products provide H.264 hardware encoding and uncompressed image solutions supporting FULL HD and 4K, and can record up to 4 channels from different types of video input sources to meet the various needs of the operating room.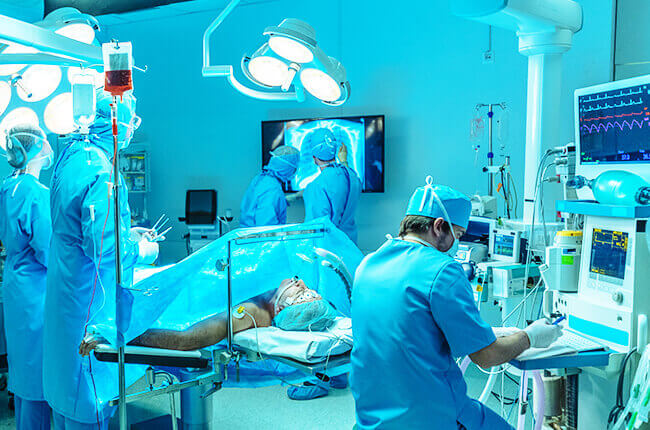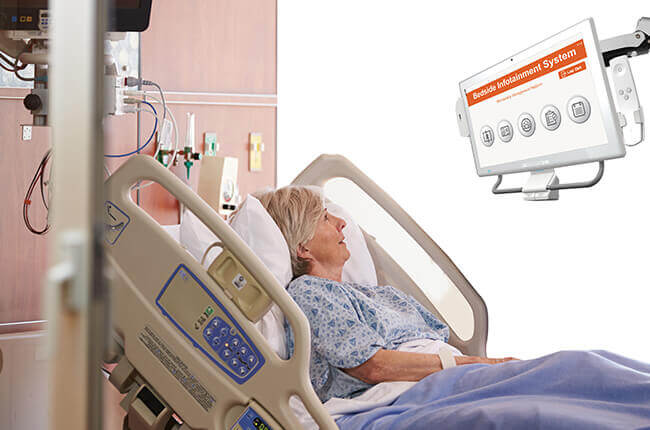 Armorlink
Hospital Wards
The medical tablet computer integrates smart card readers, RFID and high-brightness LED reading lights, and can serve as a communication platform between medical staff, inpatients and their accompanying persons.
In addition to communication uses, our partners have integrated BIS series, IOVU series and POC series medical tablet products with their bedside infotainment systems around the world. The nursing staff, before and after a patient's medical treatment, can use the bedside infotainment system to educate them with necessary medical information, which contributes to improving the doctor-patient relationship. The bedside infotainment system also encompasses applications such as phone calls, meal ordering, laundry service, etc., which can meet the daily needs of hospitalized patients.