Electric vehicles continue to deliver record year-over-year sales growth.
This growth is set to accelerate as global and local environmental initiatives spur a shift to greener alternatives.
At the same time, the market faces various challenges, such as maintaining the high-level performance of outdoor EV charging systems in harsh and critical environments
It can connect various peripheral devices such as sensors, card readers, cameras, HMI, etc., and support high-brightness data display and real-time data transmission to the management center.
IEI can provide industrial monitors and SBCs for the device layer, which can be used to build EV charging infrastructure.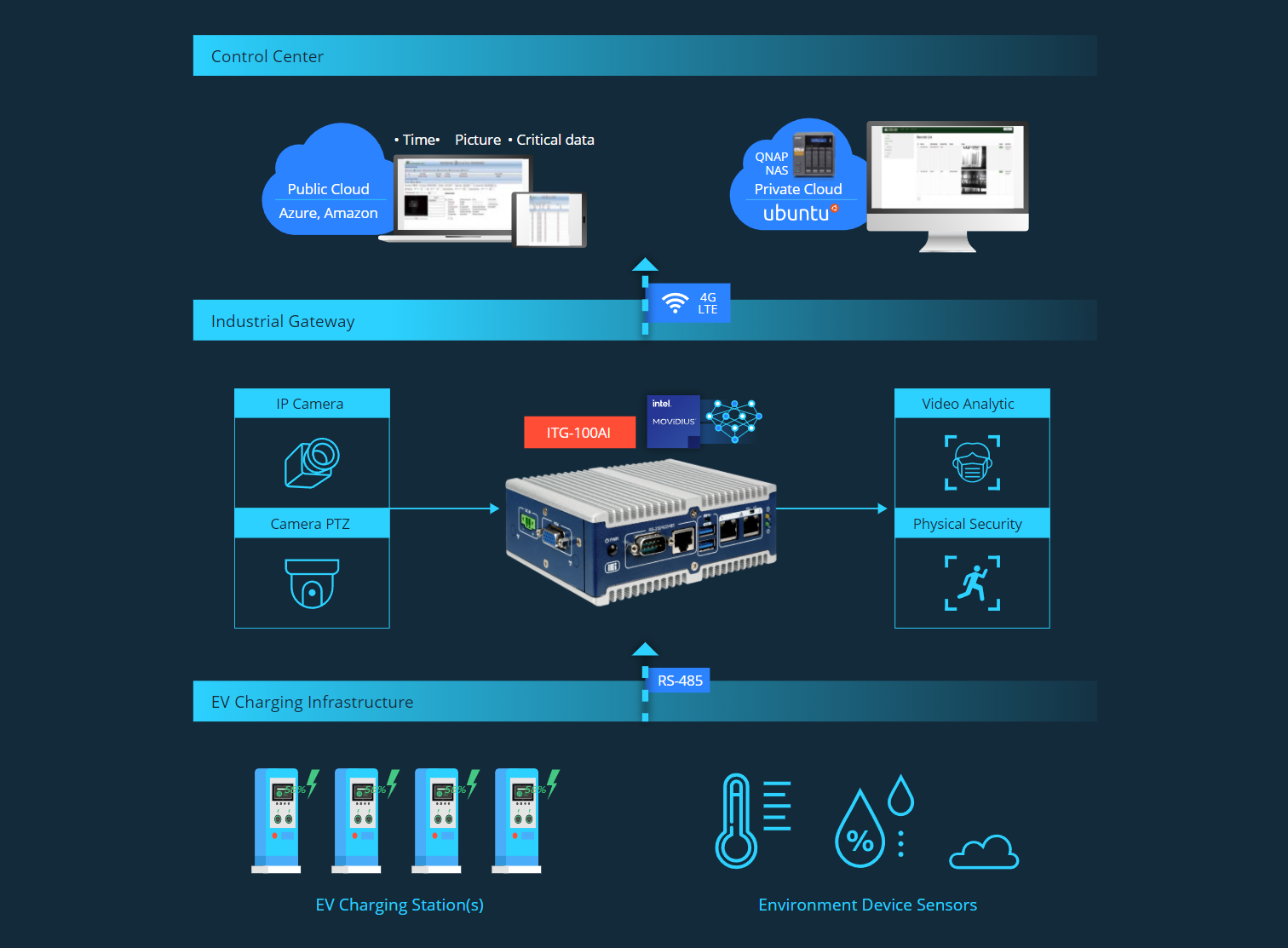 Armorlink
Electric Vehicle Charging Gateway Solutions
IEI's artificial intelligence embedded system, the ITG-100AI, is fit to operate under the temperature of -20°C to 50°C and can connect charging units and monitoring sensors in critical environments. Within strict constraints, the ITG-100AI not only provides a palm-sized design to meet space requirements but is equipped with sufficient basic I/O interfaces as well. As an IoT gateway, the ITG-100AI can collect, analyze and transmit data to the control center via a wireless connection. Integrated with two INTEL® MOVIDIUS™ MYRIAD™ X VPUs, it allows the CPU to offload complex floating-point math. Freed from the burden, the CPU can instead focus on executing the rest of the application, running the operating system, and delivering optimized AI inference calculations such as for Video analytics for custom advertising broadcasts.
Armorlink
Electric Vehicle Infrastructure Solutions
IEI can provide industrial monitors and SBCs at the device layer for building EV charging infrastructure. WAFER-AL is a 3.5-inch SBC with a PCIE MINI slot and a SIM card holder to support WI-FI or LTE modules, allowing the system to transmit real-time data to the control center via OCPP protocol. Thereby, communication between EV charging stations and central management systems from different suppliers is made possible. USB ports and RS-232 ports are also available for NFC payment system connections. The onboard INTEL® APOLLO LAKE processor has a thermal design power of a mere 6W, making it ideal for IoT applications while enabling both fanless operation and no CPU fans. The DM-F12A is a 12.1″ industrial monitor with a 600 nit high brightness display for easy payment and advertising operations.