Armorlink
Create highly integrated solutions to help the continuous improvement and development of smart cities
IEI's integrated solutions has undergone continuous improvement with the growing demands of smart cities. A city's growth never ceases. Its environmental construction and infrastructure are designed and developed using great innovative technologies that enrich people's lives. The more convenient our lives are, the more data we need to collect, analyze and transmit. Naturally, we are bound to face increasing challenges in terms of big data collection and cybersecurity.
IEI provides flexible and highly integrated solutions for transportation system development, home automation, smart retail management, unmanned manufacturing, telemedicine operations, and online and offline services in smart cities, which all combine to create a free and comfortable environment for the smart life of human generations.
IEI joins Intel, Microsoft, Wind River, SAP, and Amazon to launch a complete set of intelligent systems, providing multiple options, including various hardware devices, different operating systems, multiple applications, private/hybrid/public cloud computing, as well as the data storage and security, new application collaboration, the expanding market for the development of integrated solutions. You are welcome to come discover and access IEI smart city solutions, discover opportunities, and shape the future.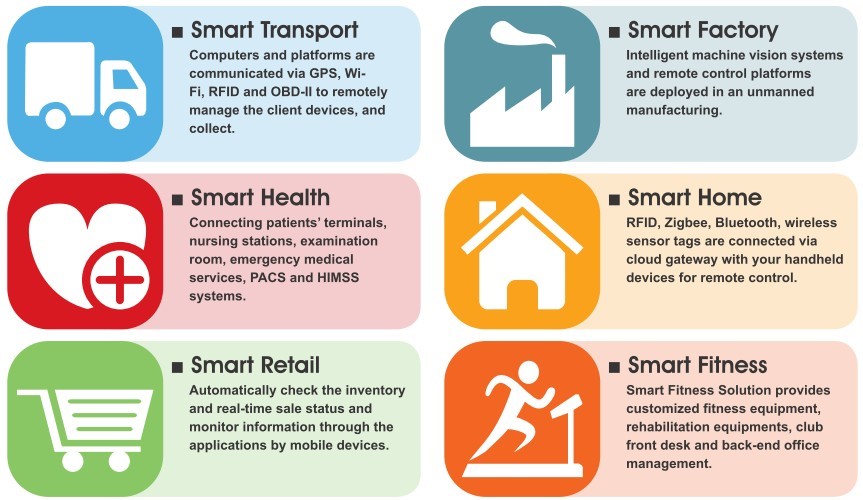 IEI转变新一代的物联网
发展智慧城市的突破点就是网络应用-物联网。物联网的目标就是利用先进的技术给人类创造更舒适便捷的生活。